HYDE PARK, PUNE
DIGI Admin
Customer Profile:
Name: Hyde Park
Industry: Residential
Capacity: 220 flats, 14 Row Houses
Location: Pune, Maharashtra
Background:
Hyde Park is one of the popular Residential Developments in Gultekdi neighborhood of Pune. It is among the well known Projects of Shah Promoters & Developers. The township comprises of five 11-storey buildings and 14 Row houses. The Hyde Park features modern amenities like children's play area, Gymnasium, Swimming Pool and Club House.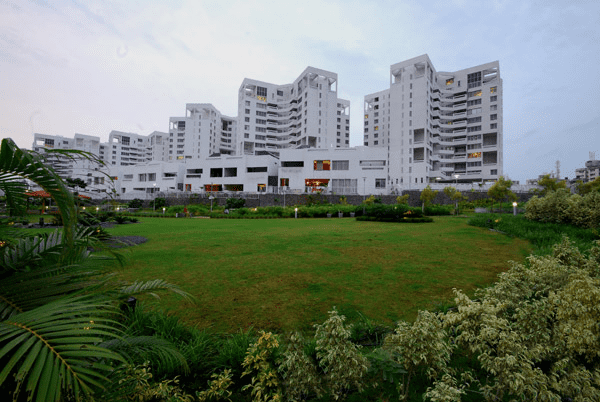 The Challenge:
Today Internet has become ingrained in people's lives and it's an important factor while buying a house. Understanding the residents high bandwidth requirement, Hyde Park, Pune was looking forward to develop a solution that could offer seamless connectivity to every apartment so the residents will have access to high-speed internet for accessing services like Voice, Video and Data which includes internet access, Video Door Phones, IPTV, Intercom services etc.
The Solution:
The site setup consisted of five 11 storey buildings with four flats on each floor, in all, there were 220 flats and 14 row houses.The Hyde Park's team proposed a requirement for fastest internet connectivity for all the residents, thus, HI-5 Systems (service providers of Hyde Park) along with Digisol's team developed a plan with the Fiber to the floor design. The solution involved positioning DIGISOL's DG-GR1010 GEPON ONU (Gigabit Router) on each floor of every apartment, which would be further connected to an 8 port Gigabit Ethernet Unmanaged Switch, DG-GS1008DG. Furthermore, using cat6 cable, the DG-GS1008DG switch would be connected to DIGISOL's DG-BR5400QAC router (AC1200 Mbps Router) placed in each flat. To summarize, on each floor of every building, one DG-GR1010 GEPON ONU, one DG-GS1008DG switch and four DG-BR5400QAC routers were deployed.
Apart from buildings, it was equally important to offer seamless connectivity to the residences in the common premises like Swimming Pool, Gymnasium, Club House etc. Considering the requisite, 6 units of high power outdoor Access Points-DG-WA1102NPLV2 were installed in all such locations. DG-WA1102NPLV2 Access Points are ideal for outdoor use as they are waterproof, dust-proof and have got sunscreen shell which is temperature adaptive and board protective. It also supports Power over Ethernet and are easy to set up even no power socket area.
Details of the deployed products are enclosed below.
DG-GR1010-​​ DIGISOL GEPON ONU Router with 1 PON and 1 Giga Port
Quantity : 250 units
DG-GS1008DG,​​ DIGISOL 8 Port Gigabit Ethernet Unmanaged Desktop Switch
Quantity : 55 units
DG-BR5400QAC,​​ AC1200 Dual Band Wireless Broadband Router
Quantity : 280 units
DG-WA1102NPLV2 , 2.4Ghz Outdoor Access Point
Quantity : 6 units
The Outcome:
Reliable Wireless Performance and Coverage
Comprehensive and cost effective solution met the demands outlined by the Hyde Park team
Benefited residents with a faster Internet connection which enables them to browse emails, stream movies, play games and stay connected to friends with uninterrupted connectivity
Since deployment, DIGISOL's DG-GR1010 GEPON ONU, Compact DG-GS1008DG switches and AC1200Mbps Dual Band DG-BR5400QAC routers have offered the strong and stable Wi-Fi coverage to all the apartments and row houses of Hyde Park. Plus, DG-WA1102NPLV2 access point has made sure that the residents get high speed Wi-Fi even when they are either in the gym or the pool area or the club house. DIGISOL's proficient team developed a comprehensive and cost effective solution that met all of the requirements outlined by the Hyde Park team.