Need for Reliable Network Infrastructure for Tech Driven Schools, Colleges and Universities
Web Admin
With the advancement of technology, the education sector has been continuously evolving. Right from kindergartens to colleges, today's students are getting opportunities to embrace technology, and expand their learning potentials. Schools, colleges and universities across the globe are leveraging the technology and digitizing their institutions with smart classrooms, laboratories, connected campuses, online distant learning courses and exams.
From past couple of years, many educational institutions in India have been using tools like projectors, computers, tablets etc. to encourage digital learning, however, the most important element is overlooked by these institutions and i.e. IT infrastructure. It's the backbone that enables all the digital initiatives of your school or college.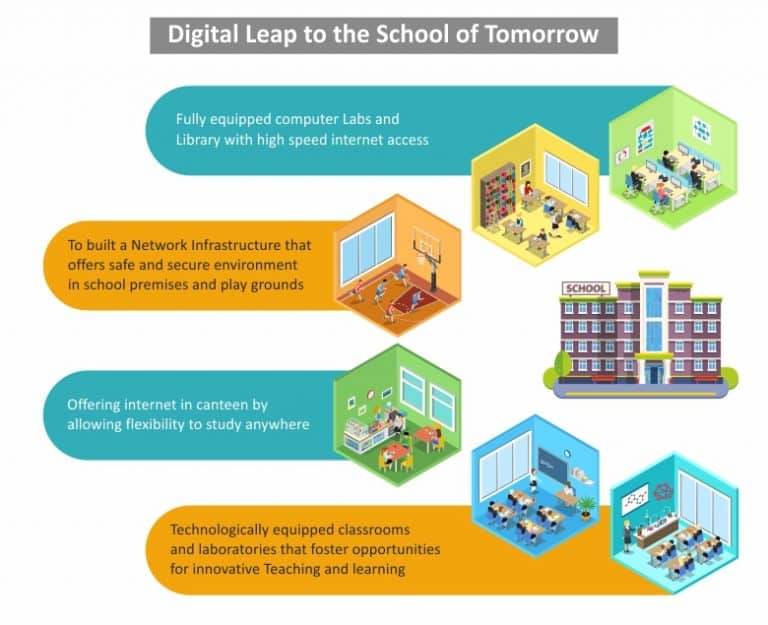 Here's why you need to develop an IT Network infrastructure that would encourage digital learning in your school or college:
Digital Learning Tools Demand Reliable Network:
As technology has been transforming the way teachers teach and students learn, the IT infrastructure should leave no room for the network to fail. High speed internet is required for students to access information online, thus enabling more self-directed learning.
Connectivity Across the Campus:
Apart from classrooms, other common premises like libraries, computer labs, laboratories, canteens, play areas, auditorium etc also require access to internet. High bandwidth connectivity is required for initiatives like BYOD (Bring Your Own Device) programs, where students can bring their own devices and can study anywhere by carrying their devices across the campus.
Security:
With the Increasing threat of incidents of negligence, there is a need for schools and colleges to ensure students safety all the time. Thus, implementing CCTV Camera across the campus has become a priority. For this, one needs PoE enabled Switching solution that collates data from all the CCTV TV cameras and helps to monitor and keep a track of activities taking place in school premises.
The landscape of education has been changing in India and DIGISOL is proud to be a part of this evolution of Education. With the opportunities offered by DIGISOL, there's never been a better time to redefine education. Upgrade to DIGISOL's solutions which include Switches, Access Points, Routers, and cabling solution which will simplify and enhance IT and your digital journey. Our networking solutions are deployed at more than 1000+ schools and universities in India, enabling emerging styles of technology-driven teaching that includes online exams, smart classroom, and laboratories.