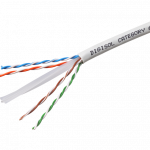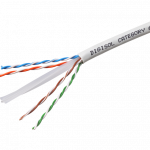 Digisol Channel SCS Solid Cable, Cat6 UTP, 4 Pair, 23 AWG, FRPVC Sheath, Grey, 305m
DIGISOL Cat6 4 Pair UTP Cable has been designed for horizontal cabling networks for transmission of high speed data, digital and analog, voice and video signals over LANs. Supports gigabit ethernet (1000 Base-T)
standard suitable for noisy environments, high EMI interference surroundings and complies to the requirement of ANSI/TIA-568-C.2 and ISO/IEC 11801. Performance verified upto 250MHz. UL Listed and ETL Verified.