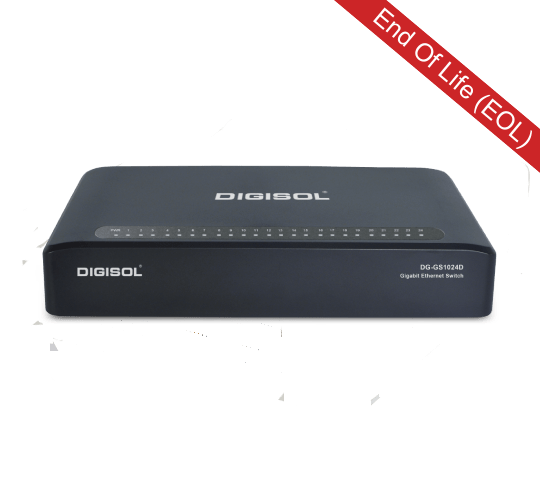 DG-GS1024D – DIGISOL 24 Port 10/100/1000Mbps Gigabit Ethernet Unmanaged Desktop Switch
Do you want your office network to be managed by some superpower technology that vanishes all the network-related problems? Then DIGISOL DG-GS1024D is the right product for you. It is an unmanaged Ethernet Desktop mount switch that is a plug and play device. It is designed to enhance network performance without any effort from your side.
This device or switch comes with 24 RJ-45 N-way ports that can operate at 10/100/1000 Mbps speeds providing high efficiency for your network in the office or home space.
The DIGISOL DG-GS1024D implements the store and forward packet-switching technology. It ensures reliable data transfer through its checking mechanism. It first holds the data packet it receives into an intermediate node where first it is ensured that the packet contains no errors. Afterwards, it is transmitted to the next node. This ensures reliable data transfer.
For small office home office network environments where the bandwidth requirements fall in the [n-k] range and network complexity is up to n complexities, the DIGISOL DG-GS1024D is ideal for network connectivity.
Description
24 x 10/100/1000Mbps RJ-45 Nway ports
Supports Auto-Negotiation & Non-Blocking Wire Speed
Supports High-Speed Networking and Jumbo Frames
Supports Store and Forward Architecture
Supports Auto MDI/MDI-X Crossover
Energy Efficient
Fan-less Design
IEEE802.3x Full-duplex flow control
Plug and Play installation
Switching Capacity: 48Gbps Backplane
You should opt to buy DIGISOL DG-GS1024D if you want to enhance your network with higher performance and efficiency. Auto-negotiation in which a signaling mechanism is used by Ethernet over twisted pair by devices chooses common transmission parameters is also supported. The networking switch also supports high-speed networking.
The auto MDI/MDI-X feature switches between MDI and MDIX as per the requirement. It detects if the connection requires a crossover. If there is any such requirement then it chooses the configuration with the respected MDI-X device and matches it with the configuration from the MDI device. This device has a fan-less design which makes it more energy efficient. Full duplex flow control lets data flow with equal strength on either side. The DIGISOL DG-GS1024D device is a complete plug and play installation. No manual efforts are required to install or use the device.