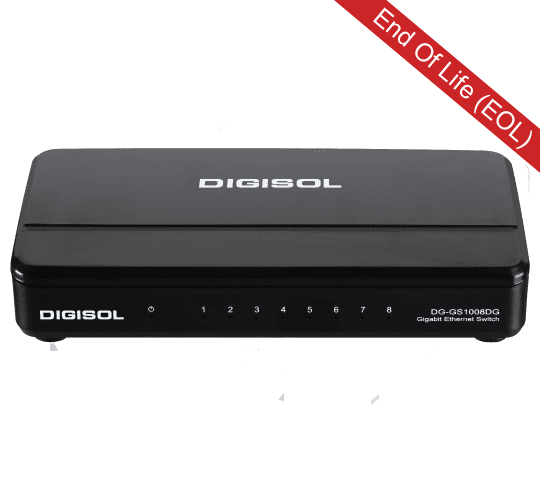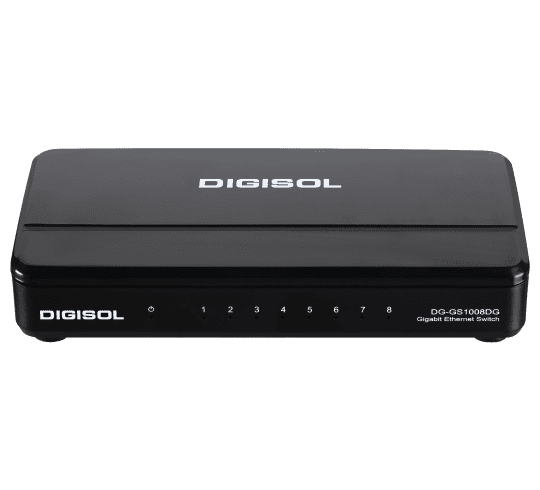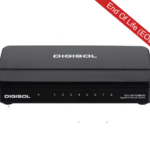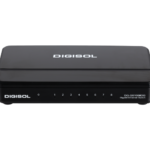 DG-GS1008DG (H/W Ver. C1) – Digisol 8 Port Gigabit Ethernet Unmanaged Desktop Switch
DG-GS1008DG – Your true best friend in levelling up your network performance.
Defining new horizons for internet speeds. Introducing Digisol 8 port Gigabit Ethernet Unmanaged Switch. Your compact assistant, delivering unbelievable internet speeds to your devices.
Switches play an important role in defining the performance of a network as well as its security. Hence it is crucial to go for a product that is quality made, has high efficiency and has a reliable brand backing it.
Digisol is a well established and honoured brand in the Make in India initiative, backed by the trust of millions of customers all across the globe. This is why DIGISOL8 port Gigabit Ethernet Unmanaged Switchis a unique offering. A switch that upgrades your network.
The DIGISOL DG-GS1008DG is an 8 port Gigabit Ethernet unmanaged switch that takes your power saving and performance to next level. This switch was designed with a core feature in mind as "performance". Following the standards set in IEEE 802.3az, this switch offers you five 10, 100 or 1000 MBPS speed complaint Ethernet ports to connect to.
It also comes in with tried and tested store and forward packet technology, which ensures reliable data transmission and transfer in the network. The DIGISOL DG-GS1008DG also provides additional support in the form of MDI/MDI-X detection.
Description
Each port supports full duplex 10/100/1000M connectivity (half duplex only supported in 10/100M mode)
Supports 8K-entry MAC address table
Auto-MDI/MDIX eliminates the need for crossover cables
Supports MAC address auto-learning and auto-aging
Auto-negotiation ports provide smart integration between 10Mbps, 100Mbps and 1000Mbps hardware
Fanless design ensures noise-free operation
Desktop design
Plug and Play design simplifies installation
Switching Capacity: 16Gbps Backplane
We designed our DIGISOL 5 port Gigabit Ethernet Unmanaged Desktop Switch with intelligent power saving functionality. This was done in compliance with IEEE 802.3az Energy Efficient Ethernet Protocols. The Power Saving Functionality works mainly operates in two ways: Inactive Link Detection and Cable Length Detection.
Inactive Link Detection is a special power-saving feature that allows special control over power usage, allowing the switch to adjust the power usage automatically whenever the core switch system detects any kind of network device which isn't in usage by the system. Based on these detections, it becomes possible for the switch and systems to then automatically adjust the power consumption of the system, adjusting the output of power based on how the link is behaving i.e., based on the activity status of the certain network link.
The second of the two methods are Cable Length Detection.  Cable Length Detection is a rather intelligent green functionality of DIGISOL DG-GS1005. This functionality allows the system to detect the length of the networking cable connected through the switch, and then based on the length, adjust power usage accordingly.
Who can use this product: Technicians, Network Engineers, Transmission and Data Administrators and IT Technical Staff. Non-tech professionals as well, can easily use our DIGISOL 5 port Gigabit Ethernet Unmanaged Desktop Switch, thanks to its "plug and play" build, it doesn't require to have dedicated technical expertise. Just the basic knowledge of networking components is enough to handle the installation of the product. And as the name suggests, the product can also be used in homes to further accelerate and support your work from home regimes.
To ensure enhanced reliability of the network, our bespoke product, The DIGISOL DG-GS1005 also provides additional support in the form of MDI/MDI-X detection. This frees up the network from the need for any additional cross over cables on the network, as well as any need for specially dedicated uplink ports as well.