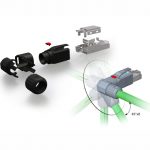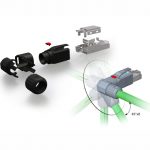 Digisol Enterprise ConvergeX Industrial Field Plugs Cat 6A STP, 7 Piece, 360°, Toolless, PoE+
Industrial Filed Plugs are used to deliver maximum efficiency that exceed performance requirement for CAT6A at field terminations . These have contact pins assembled with solderless process, saving performance issues arising out of oxidation of flux.
For DGC-RJFSCA-7TC industrial field plug, no cable manager is needed – patch cords can be routed in the design itself.
Description
360 degree movement for efficient rack deployment
Toolless type design with contact pins assembled with Solder-less Press-fit process
Fast and easy tool free termination with hands. Optional termination with hand tool
Gold over nickel plated Contact pins
No oxidization of Contact pins due to absence of soldering flux leading to longer life
High impact Polycarbonate Grade plastic, UL-94V-O rated
Plug Insertion Life : 1000 cycles