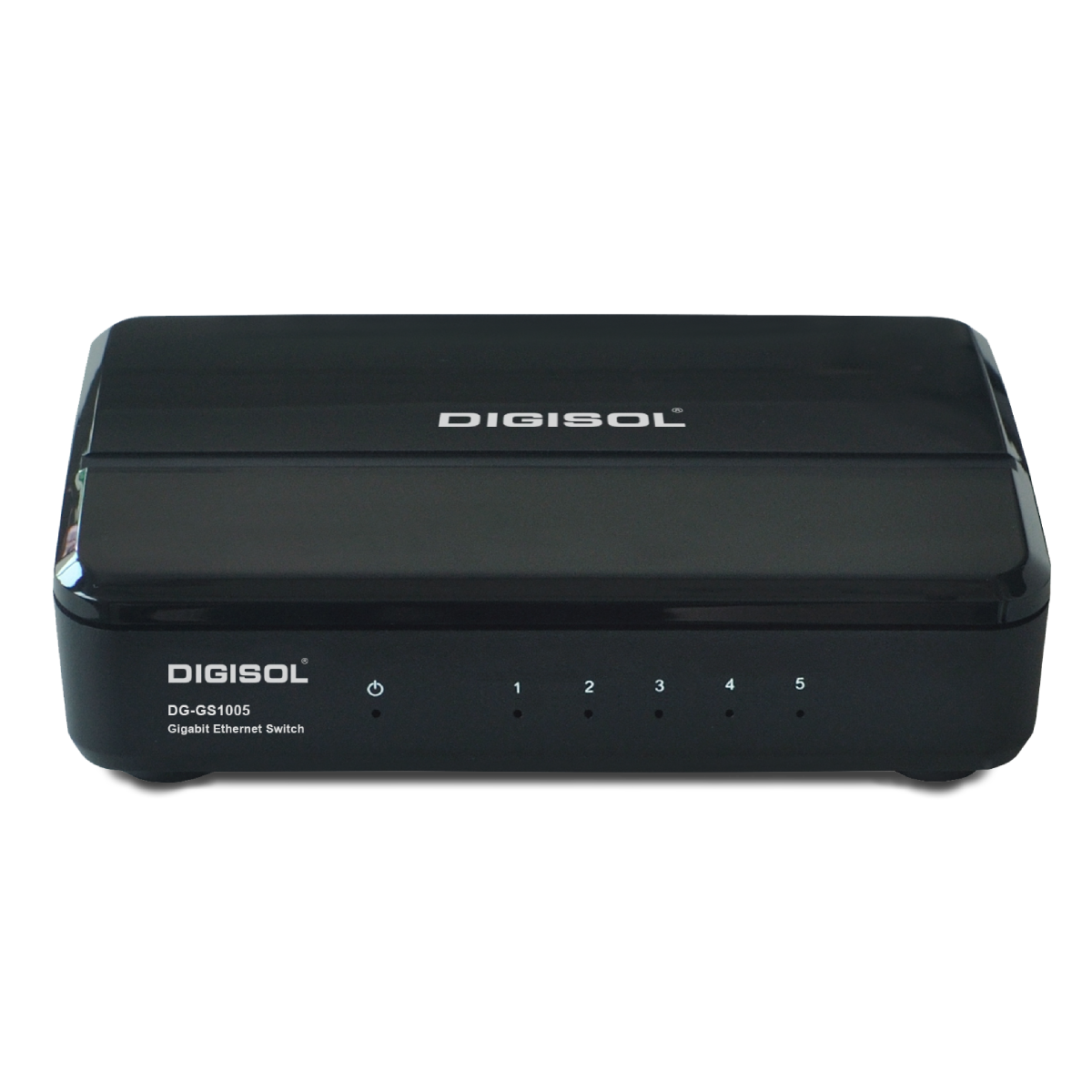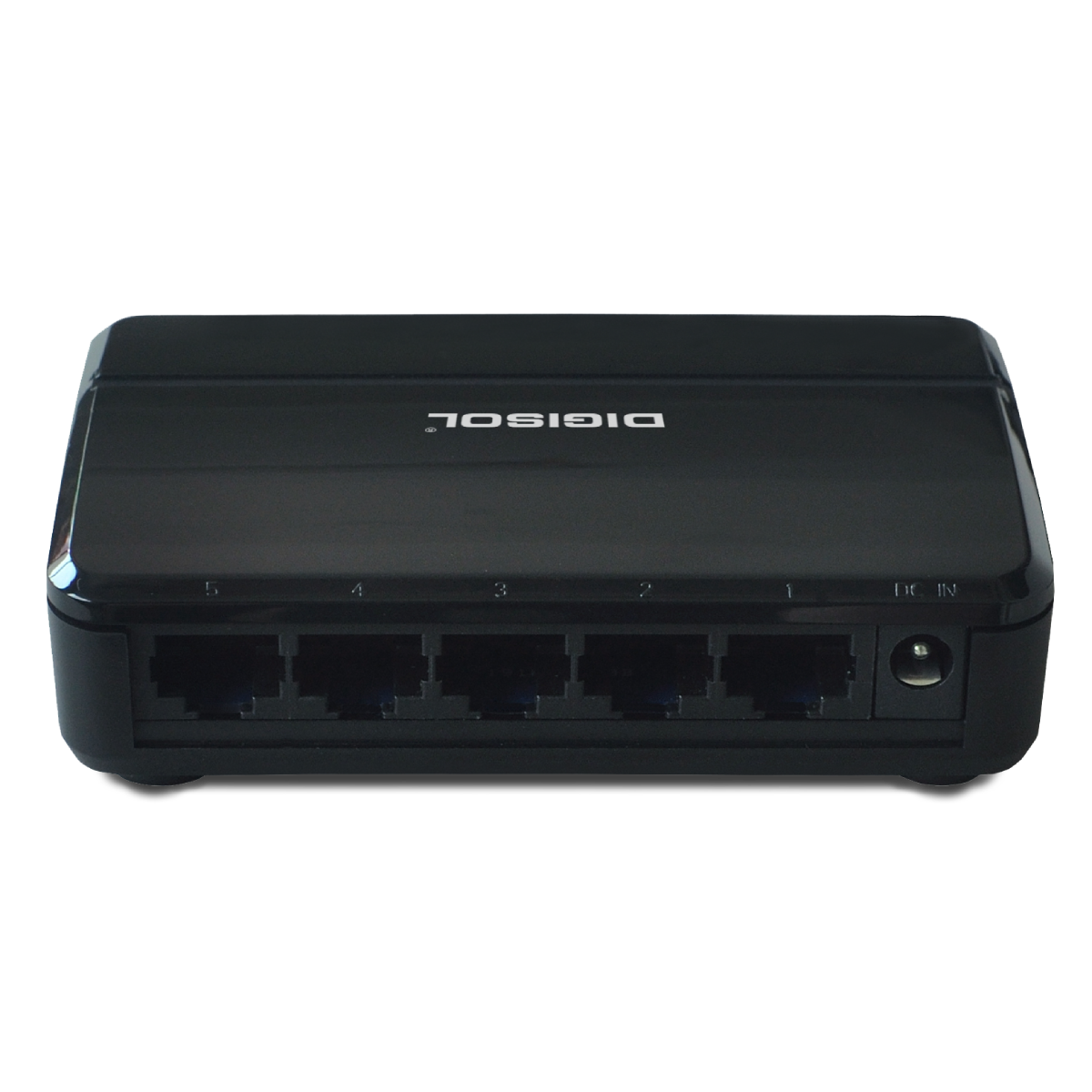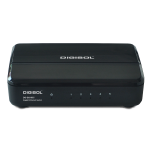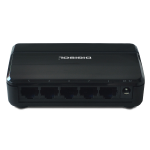 DG-GS1005 – DIGISOL 5 Port 10/100/ 1000Mbps Gigabit Ethernet Unmanaged Desktop Switch
DIGISOL 5 port Gigabit Ethernet Unmanaged Desktop Switch
DG-GS1005 – Your true best friend in levelling up your network performance.
Who doesn't like having high-speed access to the Internet in today's world? Whether it is for work or leisure, the Internet is a necessity for the human race. As such, it is important that the Internet, which relies on efficient networking systems to support the high speeds, be supported by quality made and reliable systems for network transmission.
Digisol is a well established and honoured brand in the Make in India initiative, backed by the trust of millions of customers all across the globe. As such, reliability is our theme and the global trust in us fuels our passion, with which we craft our bespoke networking solutions. Enter DIGISOL 5 port Gigabit Ethernet Unmanaged Desktop Switch. A switch that upgrades your network.
The DIGISOL DG-GS1005 is a 5 port Gigabit Ethernet unmanaged switch that takes your power saving and performance to next level. This switch was designed with a core feature in mind as "performance". Following the standards set in IEEE 802.3az, this switch offers you five 10, 100 or 1000 MBPS speed complaint Ethernet ports to connect to.
Reliability is a core factor when picking networking components that form the basis of a network. That is why we crafted the DIGISOL 5 port Gigabit Ethernet Unmanaged Desktop Switch with tried and tested store and forward packet technology, which ensures reliable data transmission and transfer in the network.
Description
Support IEEE802.3, IEEE802.3u and IEEE802.3ab standards
Supports auto MDI/MDI-X crossover detecting and auto correction
Supports full and half duplex for 10/100Mbps, and full duplex for
1000Mbps Wire-speed packet filtering and forwarding rate
Store-and-forward architecture filters fragment & CRC error packets
Supports IEEE802.3az energy efficient Ethernet function
RoHS compliant
We designed our DIGISOL 5 port Gigabit Ethernet Unmanaged Desktop Switch with intelligent power saving functionality. This was done in compliance with IEEE 802.3az Energy Efficient Ethernet Protocols. The Power Saving Functionality works mainly operates in two ways: Inactive Link Detection and Cable Length Detection.
Inactive Link Detection is a special power-saving feature that allows special control over power usage, allowing the switch to adjust the power usage automatically whenever the core switch system detects any kind of network device which isn't in usage by the system. Based on these detections, it becomes possible for the switch and systems to then automatically adjust the power consumption of the system, adjusting the output of power based on how the link is behaving i.e., based on the activity status of the certain network link.
The second of the two methods are Cable Length Detection.  Cable Length Detection is a rather intelligent green functionality of DIGISOL DG-GS1005. This functionality allows the system to detect the length of the networking cable connected through the switch, and then based on the length, adjust power usage accordingly.
Who can use this product: Technicians, Network Engineers, Transmission and Data Administrators and IT Technical Staff. Non-tech professionals as well, can easily use our DIGISOL 5 port Gigabit Ethernet Unmanaged Desktop Switch, thanks to its "plug and play" build, it doesn't require to have dedicated technical expertise. Just the basic knowledge of networking components is enough to handle the installation of the product. And as the name suggests, the product can also be used in homes to further accelerate and support your work from home regimes.
To ensure enhanced reliability of the network, our bespoke product, The DIGISOL DG-GS1005 also provides additional support in the form of MDI/MDI-X detection. This frees up the network from the need for any additional cross over cables on the network, as well as any need for specially dedicated uplink ports as well.