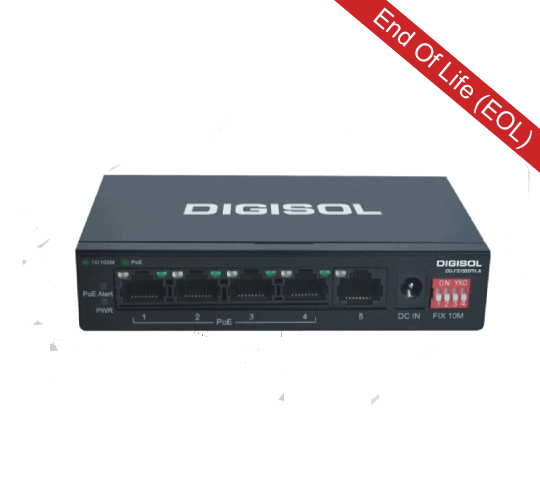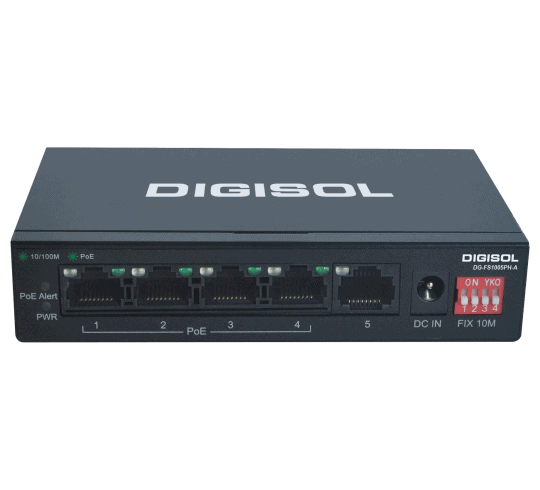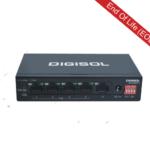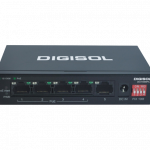 DG-FS1005PH-A (H/W Ver. A1) – Digisol 5 Port Fast Ethernet Unmanaged Switch with 4 PoE Ports & 1 Uplink Port
DIGISOL DG-FS1005PH-A is a Fast Ethernet PoE unmanaged switch designed to enhance network performance in a compact form factor. The switch offers 5 10/100Mbps Ethernet ports of which 4 ports are Power over Ethernet (PoE) compliant to IEEE 802.3af/IEEE 802.3at. The PoE ports can be used to power up devices complying with 802.3af& 802.3at using the existing Ethernet cable. All 4 POE ports support both IEEE802.3af& IEEE802.3at Standard. The switch uses store and forward packet switching technology which ensures reliable data transfer. The switch also supports automatic MDI/MDI-X detection which
eliminates the need of a cross over cables or dedicated uplink ports. This switch supports built-in DIP switch which can extends ethernet connectivity up to 200m at 10Mbps link speed for PoE ports to satisfy Video Surveillance requirement. You can also enable VLAN mode depending on DIP switch combination set on switch.
Description
5 x 10/100 Mbps RJ-45 Nway ports with 4 PSE/Power over Ethernet Ports & 1 Uplink Port
Complies with IEEE802.3, IEEE802.3x, IEEE802.3af & IEEE802.3at standards
Supports 15.4W max per port for IEEE802.3af devices & 30W* max for IEEE802.3at compliant devices
Supports MDI/MDI-X auto crossover
Up to 200Mbps data transfer rates in Full Duplex Mode
High Performance
Plug and Play installation
Support VLAN mode
Link/ ACT LED for each port & PoE LED for PoE ports
Supports wire speed packets filtering and forwarding rate
Supports store-and-forward switching infrastructure
Max. PoE Budget 32W