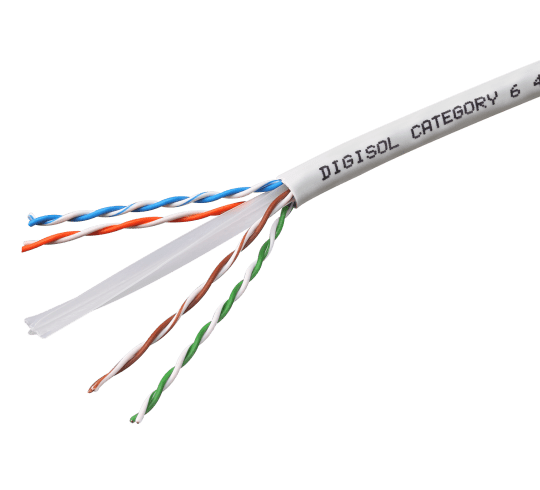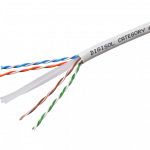 Digisol Channel SCS Solid Cable, Cat6 UTP, 4 Pair, 23 AWG, FRPVC, Grey, 100m
DIGISOL Cat6 4 Pair UTP Cable has been designed for horizontal cabling networks for transmission of high speed data, digital and analog, voice and video signals over LANs. Supports gigabit ethernet (1000 Base-T) standard suitable for noisy environments, high EMI interference surroundings and complies to the requirement ofANSI/TIA-568-C.2 and ISO/IEC 11801. Performance verified upto 250MHz. UL Listed and ETL Verified.
This networking cable has been designed for high-speed transmission of data, it could be analog or digital, voice or video signals and can be set in horizontal cabling network pattern. ThisDigisol cat6 solidcable supports Gigabit Ethernet (1000 base-T) standard which is the most widely used Gigabit Ethernet standard and supports 10 Gigabit Ethernet (10G base-T) for up to 50 mtr length, enabling seamless integration with existing systems. You can just plug this solid cable into your existing system and that's it, networking cable will start functioning seamlessly.
The cable is suitable for places with high EMI (Electro Magnetic Interference, caused by presence of multiple powerful electronic appliances) and data transmission will stay unaffected. What this means is that cable will function flawlessly no matter how much electromagnetic fluctuations it is facing around it.
This cat6 solid cable follows International Standards like ANSI/TIA-568-C.2 Standard, and also ISO/IEC 11801 which guarantees its safety and assures high quality of wire material build. This Digisol networking cable offers amazing network experience, with bandwidth performance peaking out at 250 Mhz. ThisSolid Cable Product is UL listed and also holds ETL Verification. This cable is a Standard Made in India product, proudly made by Digisol, an Indian Brand.
Why us: We are a leading Indian brand in areas of Information Technology. We were awarded most reliable structured cabling award in 2020 at DT virtual award night. We at Digisol believe in innovation, as such our products are always top notch and superior quality. All our products are manufactured under Make in India initiative. By purchasing a Digisol product, you strengthen the Initiative while at the same time enjoy superior quality, all the while supporting Digisol, an Indian brand.