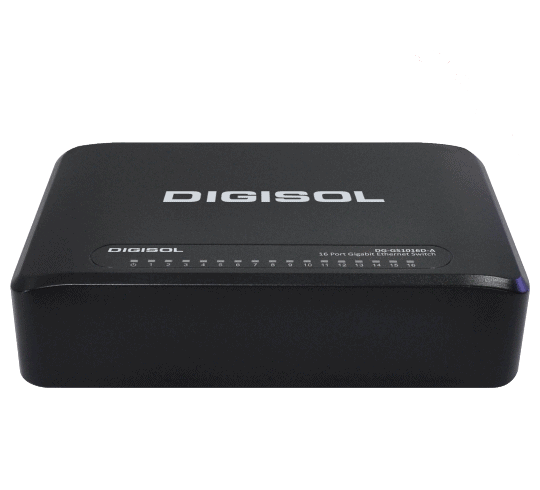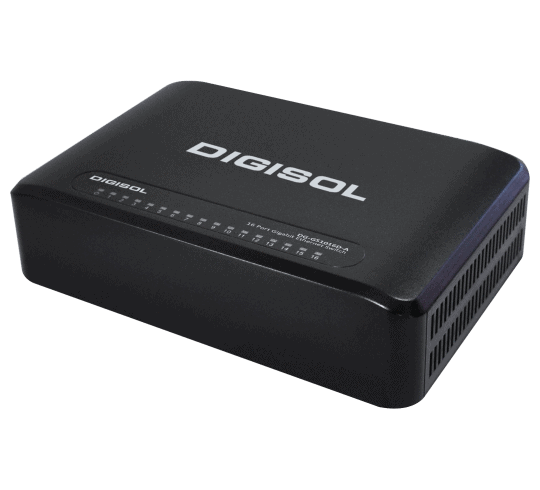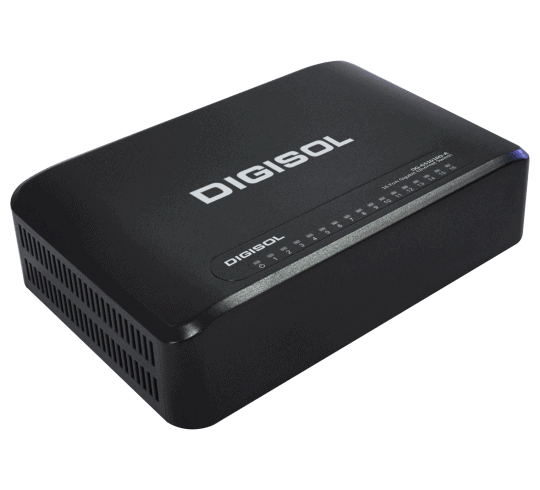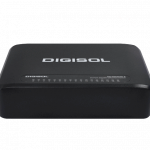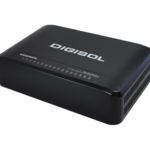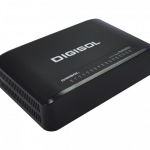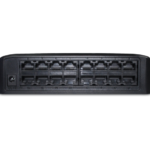 DG-GS1016D-A (H/W Ver. A1) – Digisol 16 Port Gigabit Ethernet Unmanaged Desktop Switch with External Power Adapter
DIGISOL DG-GS1016D-A is a compact device suitable for small networks. This device is the best choice for you if you are monitoring small size networks. This Ethernet unmanaged desktop switch has 16 Ethernet ports that operate at 10/100/1000 Mbps speeds. The automatic detection for MDI/MDI-X reduces the requirement for manual crossover or straight-through cable type identification.
The switch ensures reliable data transfer with the use of the store and forward packet-switching technology. The data is first stored in a node then it is transferred to the next node only after ensuring data contains no errors.
DIGISOL DG-GS1016D-A implements IEEE802.3, IEEE802.3x and IEEE802.3ab protocols. This denotes that the switch can be used with a single coaxial cable, twisted pair cable and copper cable at 10 Mbps, 100 Mbps and 1000Mbps speeds respectively.
16×10/100/1000 Mbps RJ-45 Ports are enough to create and manage a small size Ethernet network. RJ-45 ports can be used for Power over Ethernet connections.
Description
16×10/100/1000 Mbps RJ-45 ports
Complies with IEEE802.3, IEEE802.3x, IEEE802.3ab
Standards Supports Auto MDI/MDI-X Crossover
Data transfer speed up to 2000Mbps (Full-duplex)
High Performance
LED indicators for monitoring Power, Link/ Activity
Switching Capacity: 32Gbps Backplane
Plug and Play installation
DIGISOL DG-GS1016D-A is a plug and play device that supports data transfer up to the speed of 2000 Mbps that establishes a very fast Ethernet network group.
16 ports, RJ-45 ports, support for auto MDI/MDI-X detection for crossovers and data transfer at speed of 2000 Mbps makes this device a high-performance device.
Although this is a plug and play category device, the LED lights on the device are plus-point and are helpful for monitoring activities. For instance, indicators on DIGISOL DG-GS1016D-A helps monitor power input, link status and other activities going on the device.
The switching capacity of the maximum amount of data that can be transferred between the data bus or interface card in this device is 32 Gbps.