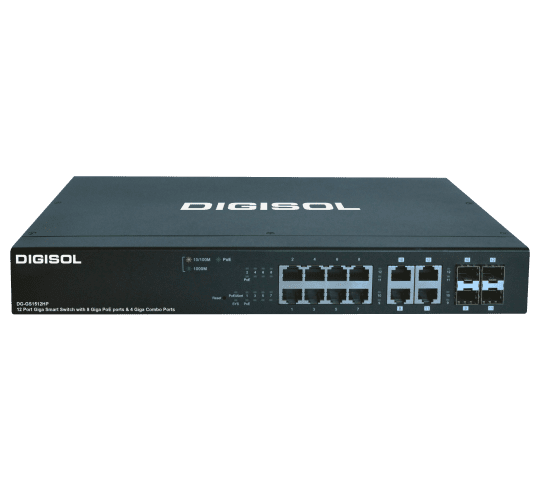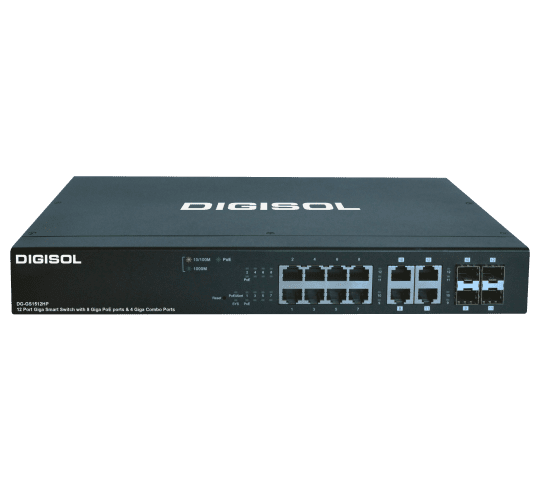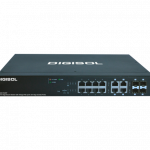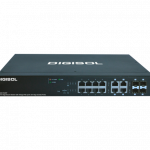 DG-GS1512HP – Digisol 8 Port Web Managed Gigabit Ethernet PoE Switch + 4 Combo Ports
DIGISOL DG-GS1512HP uses web-managed switching technology that enhances the functionality of this product. Web managed switching technology falls between unmanaged and managed switches. They are available at a much lower price than fully managed switches and allow basic configuration settings like VLAN, duplex and port bandwidth. That makes this device a smart or intelligent network manageable switch. This switch is optimal for high-performance network environments that require high port density. The DIGISOL DG-GS1512HP provides a total of 8 ports that supports 8 Gb Ethernet PoE ports and 4 combos 4 Gb Ethernet uplink ports. Port mirroring, port trunking and VLAN ports are also supported on these ports. Here port mirroring is the method of copying network packets from one port and sending them to another port of a monitoring computer. Port trunking allows one to combine multiple LAN interfaces for increased bandwidth for multiple clients.
Description
Supports up to 8 10/100/1000Mbps Gigabit Ethernet PoE ports and 4 SFP slots
IEEE 802.3af/at PoE compliant to simplify deployment and installation
Supports PoE up to 30W per port with 140W total power budget
IEEE 802.1Q VLAN, Access Control List (ACL)
Switch capacity: DG-GS1512HP: 24Gbps, Forwarding rate: 41.6Mpps
Supports IGMP Snooping V1 / V2 / V3
8K MAC address table and 10K jumbo frames
19-inch rack-mountable metal case
PoE switches empower your network and devices in the network. Devices like security cameras and other networking devices get power and high internet speed with the help of PoE switches.
DG-GS1512HP has 8 10/100/1000Mbps Gigabit Ethernet PoE ports to connect with multiple devices at a time.
The installation and deployment of DG-GS1512HP are simplified with IEEE 802.3af/atPoE compliant mechanism. The 802.3af provides up to 15.4 watts of DC power on each port.
It supports PoE up to 30W per port with a maximum of 140W support for all ports combined.
DG-GS1512HP has a switching capacityof 24Gbps and a forwarding rate of 41Mbps. Switch capacity is the max data capacity between the data bus and the interface card.
It supports IGMP SnoopingV1/V2/V3. IGMP snooping is a method used by network switches that identify multicast groups be it groups of computers or devices that  receive the same traffic in the network.
8K MAC address table – It can be a switch-on-chip with 8k entries.
The 24 Gbps switching capacity provides great support for L2 managed switch capacity. Significantly improving the responsiveness for file transfer times and responsiveness of the application, you can take full advantage of high performance on Laptops or PCs. For high-speed uplinks to Servers and backbones, the device has 4 Gb SFP ports.
To Enhance overall network stability and reliability, the IEEE 802.1w Rapid Spanning Tree protocol provides redundant links and a loop-free network providing access to core networks with rapid convergence ensuring faster recovery from failed links. Providing load balance and fault tolerance by automatically aggregating several physical links together as a logical trunk the IEEE 802.3ad Link Aggregation Control Protocol (LACP) is implemented.
Voice and video traffic are prioritized according to 802.1p giving optimal performance to real-time applications. Port security ensures access to authorized ports based on their MAC address. This also limits the total number of devices that can be used for MAC flooding attacks. The User-friendly web interface that can also be controlled by the network station facilitates ease of management.
Technical Specifications
A Reset button to reset the PoE to default factory settings
Auto-negotiation so that the port can switch between speed and duplex mode
Tag-Based VLAN with 256 IEEE 802.1q
MAC Based VLAN, Voice VLAN, Guest VLAN and Management VLAN are also provided