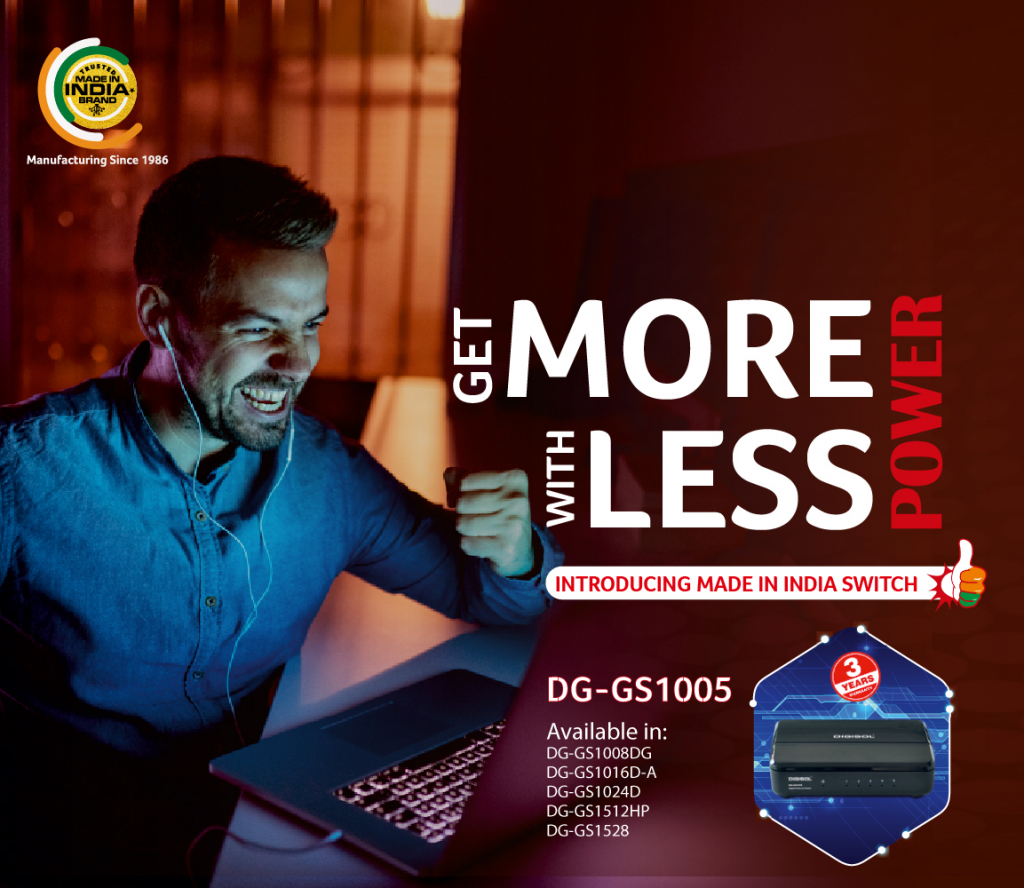 Digisol Systems is a Trusted Made in India IT networking brand that offers a wide range of IT networking solutions like Structured Cabling System (Copper &Fiber), FTTH, Switching and Wireless products. Digisol is a wholly owned subsidiary of Smartlink Holdings Ltd., a BSE|NSE listed company that holds expertise of Manufacturing IT networking products since 1986. Smartlink consists of a total of 4 plants covering 120,000 Sq ft of production shop floor area with SMT and through-hole Lines. The company is brain child of Mr. K.R Naik who is widely regarded as father of India's IT networking industry, his 5 decades of industry experience and astounding leadership skills is helping the company to stay ahead of the technology curve in the competitive market.
Digisol is the only India based IT networking brand that has strong PAN India presence with sales representatives in 50+ cities, 10+ branch offices, 45+ Distributors, 63+ service support centres, and 1000+ partners. Digisol's endeavour is to consistently offer innovative & future ready products that aim to fulfil customers IT networking requirements of today & tomorrow.
Switching Solutions:
Managed Switch | Unmanaged Switch | Full Managed Switch | Industrial Switch | PON Module
Businesses are now switching to the 'Digital age' and one needs a network foundation that support the latest technology and the digital innovations. Switching are at the heart of the network foundation and keep the users connected while the internet allows effortless transfers of data to designed devices.
A Made in India Intelligent Network Manageable Switch designed for Network Environments that require high performance, high port density and easy installation
A Made in India 24 Port Gigabit Ethernet Layer 2 Web managed Switch with 4 Gigabit SFP Ports that works for you in multiple scenarios
A Made in India, fan-less design to
deliver silent operation for your
Plug and Play unmanaged
desktop switch
A Made in India, fan-less design to deliver silent and energy efficient operation for unmanaged desktop switch
Introducing the Made in India, unmanaged desktop switch for your Small and Medium Enterprise
A made in India, fan-less design to deliver silent operation for your unmanaged desktop switch.
Q1. I am facing connection drop through the router. What can I do to solve the problem?
Solution:
1. Note the number of devices on which the issue is faced.
2. Check if the connection drop is only wireless or wired as well.
3. Check if there is any change in the LED status during the drop.
4. Confirm whether the issue is from the ISP end or through the router.
5. If issue is through the router, do a reset and reconfiguration as per basic connectivity.
6. Monitor the connection until next drop is faced.
7. Monitor connection through the ISP during the drop from the router.
8. Try locking WAN link speed.
9. Try assigning DNS manually.
10. Test for physical connections11. Upgrade the firmware if not latest
12. Test the ISP line with a test modem
13. If Test modem works fine and issue persists with only Digisol router, RMA the product
Q2. How to change router's admin password?
Solution:
1. Open the router configuration page on any web-browser
2. Go to Admin / Management > Change the password
3. Select the admin account under Account Table
4. Admin account details will be populated above
5. Enter old password, new password and click Modify
6. Click on Apply
Q3. Internet Speed from the router drops intermittently. What could be the reasons?
Solution:
1. There could be a number of reasons for internet speed drop. To identify the exact issue please try thefollowing:2. Check internet speed received using tools like ww.speedtest.net
3. Check the difference of speed received through the router with regards to the ISP plan
4. Check whether the issue is noticed on single or multiple devices
5. Check if the speed drops only on wired clients or wireless clients as well
6. Test and note the internet speed on wired as well as wireless clients
7. Check if the internet connection is stable from the ISP end
8. If observed only on wired clients, try different or shorter lan cable
9. If observed only on wireless clients then check for any wireless interference near the router
10. Try to reset and reconfigure the device If issue persists, please speak to a live technician on 1800-209-3444.
Q4. How do I upgrade the device firmware?
Solution:
1. Strictly recommended to connect the router wired to the PC
2. Open a web browser such as Internet Explorer or Mozilla Firefox and enter the IP address of your router
((default IP and login credentials will be found on the device label)).
3. Enter the username (admin) and password admin (or as mentioned on the device label) and click login
4. Click on the Maintenance Tab
5. Click on Firmware Upgrade
6. Click on browse and select the appropriate firmware file on your local system
7. Click on the "Update Firmware / Upload"
8. Wait patiently till the procedure is complete and the device reboots
9. Check the Status > firmware version to confirm if the upgrade is successfully completed.
Note: Do not turn off your device or press the Reset button when the firmware upgrade procedure is in progress.
Q5. How do I check the warranty of the product?
Solution:
1. Product warranty will depend on the product model number, hardware version. The warranty period start from the day the product is billed to the end-customer. Check the warranty label on the product. The label would indicate any of the below warranty status:
2.
a. Lifetime warranty : 5 years from the date of purchase.
b. Limited Lifetime warranty: 3 years from the date of purchase.
c. Standard warranty: 1 year from the date of purchase.
For more details visit :
https://www.digisol.com/warranty-doc-policy/
Preserve the copy of the invoice as a proof of purchase.
"I have received a call from one of your engineers and he was troubleshooting my Digisol router issue and resolved the same. I really appreciate it because he called me the next day for a router update for whether it is working properly or not. It is an amazing service and kind help of engineer support. really thanks and Kudos for Digisol team."
"I Mr. Kabir singh would like to appricate your support staff VASANTRAO for his excellent service.. i was not able to use the product since 2yrs. Now m all satisfied with the service and would like to suggest my freinds and relatives for the products... keep it up vasantrao..."
"Thanks for quick response and nice service. Good technical assistance provided."
"Yes Indeed, I appreciate your support and dedication beside good quality of product. I assure you for recurring purchase of Digisol appliances whenever I have need."
"Such a nice great experience to using Digisol product."
"I bought DG-HR330TA router on 19-apr-2018. since that day router is giving no issues. very stable product with advance configuration options."
"Wifi range of this router is excellent…. and the build quality is superb…… my all 3 floored building is fully covered by this…."
"Recently I have brought 30 pis digisol onu wifi and onu. but while configering the onu I can not able to register wifi onu to my 10 g olt.... only one type onu work normal or wifi onu. Then I contact digisol tec support (Mr.Rohit from Mumbai) .he guide and soupport me ...finally I am able to run internet both type of onu with the help of Mr. rohit.... I really appreciate it because he called me the next day for whether it is working properly or not.It is an amazing service and kind help of engineer support. really thanks and Kudos for Digisol team specially Mr. Rohit."